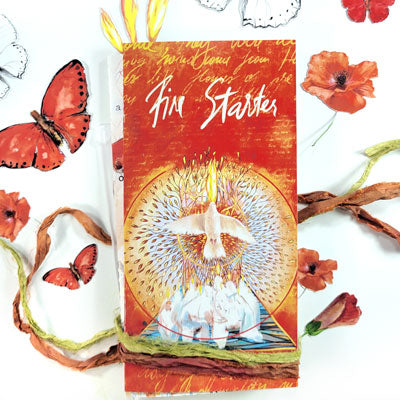 Fire Starter
"Fire Starter" - a creative Bible study kit with a focus on the presence and work of the Holy Spirit in our lives.
Designed to encourage spending more precious time in the Word and to keep the Holy Spirit in our thoughts, prayers and hearts every day through a creative/meditative way using various art elements along with the devotional and Bible verses.

You can view a FULL UNBOXING of this kit here:

Process videos on how to use the kit are up on my YT channel:

This creative Bible study kit has various journaling items from art on stickers and card stock, along with the devotional booklet:
-the devotional booklet contains many Bible verse references within the devotional narrative and artwork that goes along with the themes. The devotional has 9 main sections and you can use many of the segments to journal for several days.
-the ARTwork - all original art, line drawings, watercolors and acrylic paintings. All artwork is prayerfully created, thought out by a human mind and inspired by the Holy Spirit. None of the art was AI generated.
The printed art on clear and white stickers, and on card stock, along with Scripture, meditation on the Word and personal journaling are all meant to encourage a multi-sensory learning, a total immersion in the Word of God.