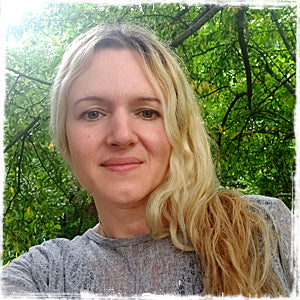 Welcome to Open Journey!
I am Ingrid, owner and creator of all Ingrid Art Studio Art and Open Journey products, although my husband, Nathan and I sometimes collaborate on kits and projects (and sometimes our kids do too!)
I studied Fine arts and Graphic Design in Romania, where I was born and raised, finding home across the world, in Michigan, where I have lived with my husband and our three kids for over 20 years now.

Open Journey is a branch of Ingrid Art Studio. As a visual artist with focus on sacred art I discovered some years ago the powerful union of art, faith and journaling.

Having embarked on this journey in search for more of God, more understanding, more beauty, more love, more communion with Him, I chose as favorite research tools visual arts, Word studies, Bible study and prayer, resulting in many creative Bible studies and faith journaling kits through the years.

The creative bible studies I put together are a combination of artwork I make in many mediums, from photography, printmaking to detailed graphite drawings and paintings, combined with meditations on the Word of God and Word studies. All becoming a wonderful tool to help us keep our focus on Jesus and continually refresh our love for God.